Homes in Australia – 2021
What will Australian homes be like in 2021?
Last year was a tough year for a lot of people and self isolation made people spend more time at home than ever before. I'm a home body so I did this quite easily and it actually gave me some time to spend with my family and do some of those things around my home that I have been wanting to get done for ages. I painted my bedside tables, organised my pantry and many other areas so Marie Kondo would be proud. I even created an art gallery wall that I previously never had time to finish. See my gallery wall below – (I still want to add more art to it)
All this time at home has made our homes even more important to us because our homes represent who we are and how we feel so if we are not happy with our home then this can effect us negatively. I believe everyone deserves a home they love so my New Years resolution is to provide more tips and design ideas on my blog and social media so people can be inspired and create homes they love. Australians have a particular style so I thought I would start 2021 by sharing my ideas on how we will be decorating our homes this year.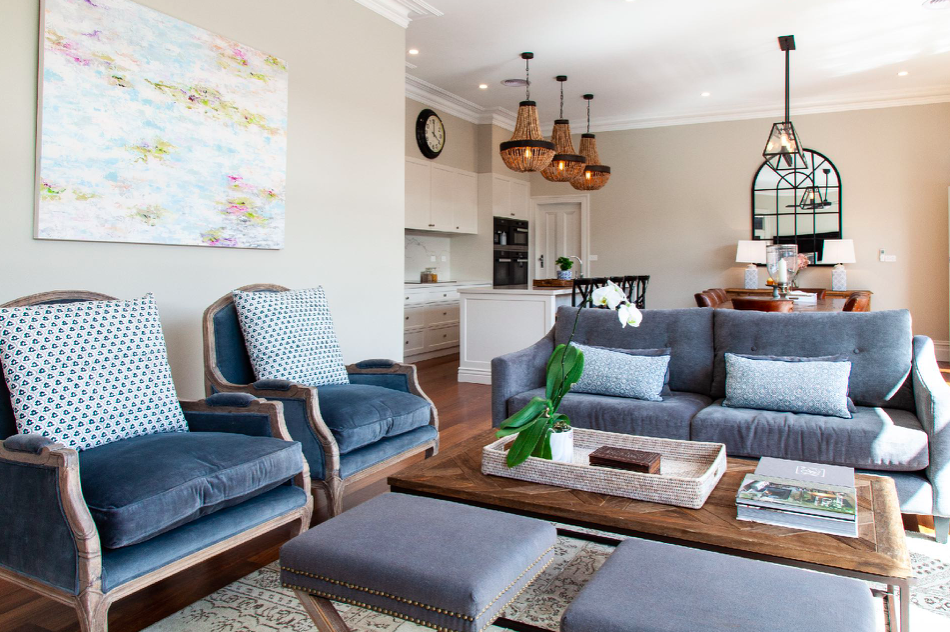 Australians love a relaxed home
I think Australians love homes that are welcoming with a relaxed vibe that suits our casual lifestyles. For example we don't want a high gloss coffee table that we are worried our kids will ruin, instead we want to be able to put our feet on the coffee table and relax in our own home. That's why I love to choose coffee tables made from recycled timbers like in the photo above that is a bit rustic. In 2021 I think we will continue to decorate our homes so they are comfortable to live in.
Beautiful & Practical Storage for our homes:

Our homes should be beautiful but also practical so this means they should suit the way we live and be a pleasure to live in. I believe storage is very important in any home so that items can be easily put away and accessible when we want to use them.  I like to choose furniture that has lots of storage like drawers or wicker baskets. In the lounge room on the left I chose a beautiful large wicker coffee table because it has loads of storage inside and it also looks great. The entrance in the right photo has a console with three drawers where things like keys, the garage door remote and all those little items we need near the front door can be put away easily. I also added a wicker chest underneath so the kids shoes can be stored in here to keep the entrance tidy.
Traditional Style Rugs
In 2021 I will be embracing traditional style rugs that are very practical because you can't see all the day to day use on them because the patterns hides so much. I think traditional style rugs are an investment in a timeless piece that can be loved for many years. I think they look cosy and when mixed with modern furniture they create a home that looks collected over time.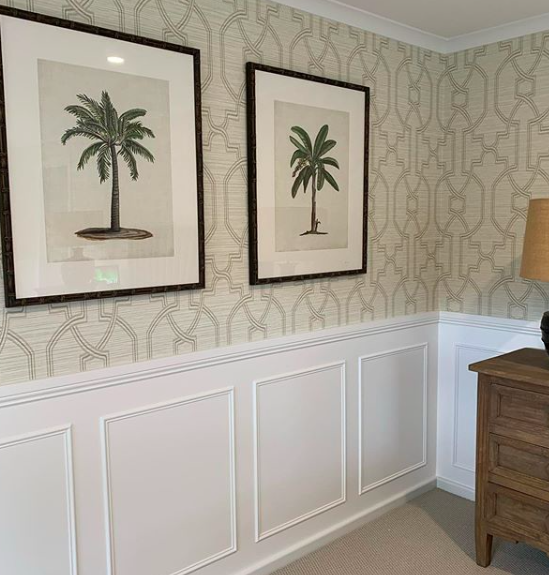 Architectural Detail on walls and ceilings:
Plaster walls can look a little boring so adding trim on your walls to create wainscoting is an easy way to add character to your home. I also like to add timber panelling to walls and ceilings because even if it's painted white it still gives texture and interest to the room. Easycraft is a popular choice for timber panelling. I also love adding beams to ceilings for a cosy look or a coffered ceiling can give a home a sense of luxury.
I am looking forward to helping lots of clients this year create their dream homes and I hope you are inspired to create yours.
Andrea xx
https://www.jemdeninteriors.com.au/wp-content/uploads/2021/01/Screen-Shot-2021-01-19-at-9.55.27-pm.png
566
786
Andrea Davison
https://www.jemdeninteriors.com.au/wp-content/uploads/2015/07/Screen-Shot-2019-06-19-at-9.57.15-am-300x273.png
Andrea Davison
2021-01-19 12:26:05
2021-09-01 13:09:43
Homes in Australia – 2021