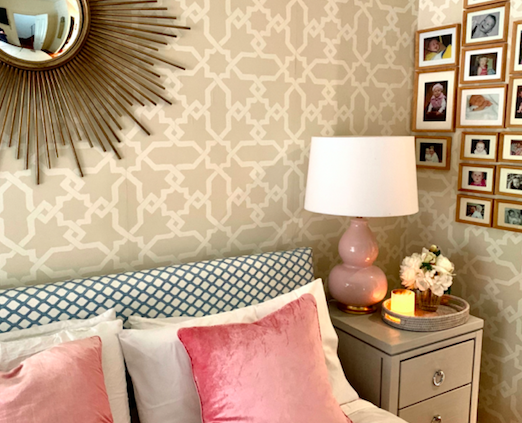 A room, and indeed a whole house, can be transformed through the use of Hamptons wallpaper. It's one of the most effective ways of personalising a room and making it so much more interesting. Wallpaper adds a whole heap of character to your home and can be installed fairly quickly.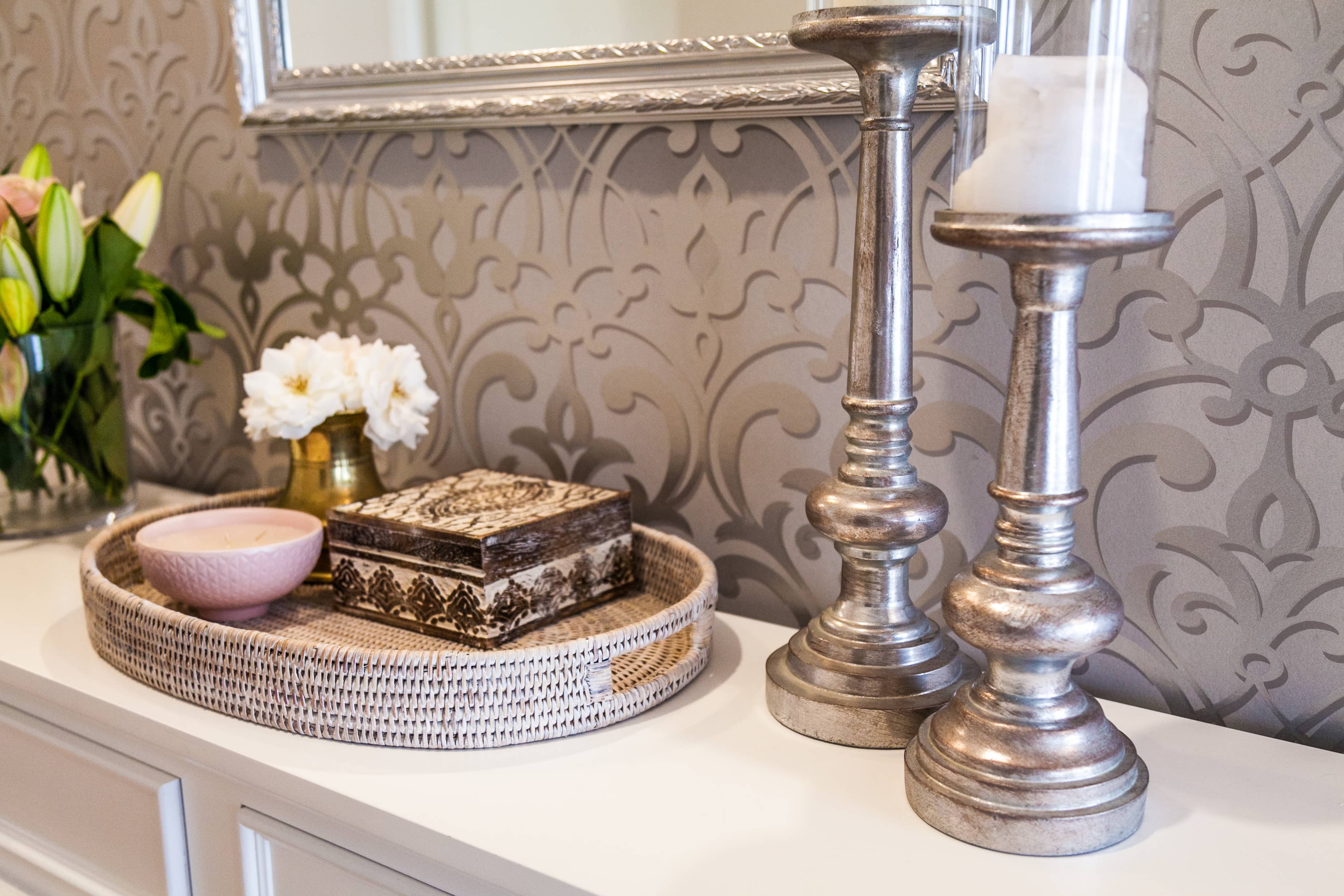 What is Hamptons Style Wallpaper? 
Hamptons inspired wallpaper usually features stripes, geometric patterns or more traditional styles like the photo above. The right wallpaper in a Hamptons designed home will strike a balance between style and sophistication on one hand, and relaxed elegance on the other.
The wallpaper can be any colour but soft, neutral colours like beige and grey allow the wallpaper to set a base for the room. You can then add accent colours with accessories that are easily changed. The patterns are also usually timeless, so you won't need to worry about updating the wallpaper and you can just change other aspects of the room when you feel like a refresh.
Different Ways to Use Wallpaper 
I like to wallpaper an entire room because it seems to add so much more impact than just painted walls. However, if a client's budget doesn't allow for it, then wallpapering the top half of a wall and adding wainscoting is a great option. Another idea is to wallpaper a feature wall, for example, behind a bed. This can also be very effective.
Adding Height and Length to a Room
In the example below, a striped wallpaper was used. Stripes can make a room look wider or give it the illusion of added height, depending on the direction it is installed. I love using a horizontal stripe for a modern Hamptons look. The neutral colours of the white and beige metallic stripes provide a great canvas for the picture gallery wall in this project.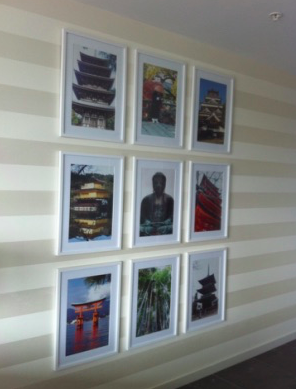 Adding Interest to a Powder Room
Powder rooms are great for wallpapering because they are small. This means most people can fit it into their budget and it packs quite a punch, so you get great value for your money. Being a room made for guests, it's also a great way to create a showstopper in your home.
This powder room was transformed into something very special by the use of a wallpaper with a metallic pattern that gives the sense of luxury. We were then able to bring the same patterned wallpaper through to the entrance to create a nice flow in the clients home.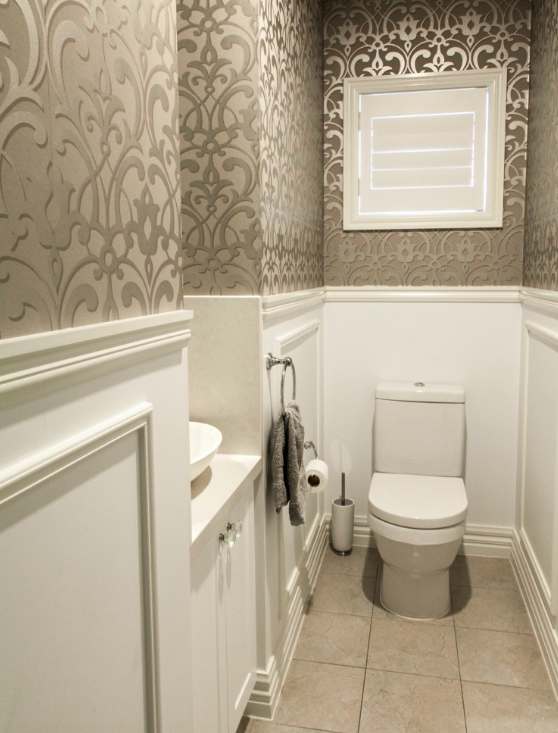 Wainscoting
Wainscoting is a term used to describe decorative panelling on a wall. It was originally used as insulation, to prevent damage to walls from rising damp. Nowadays, it is very much a decorative feature especially in Hamptons inspired homes. I helped renovate this powder room about four years ago. We added wainscoting and a beautiful wallpaper above it to personalise the room.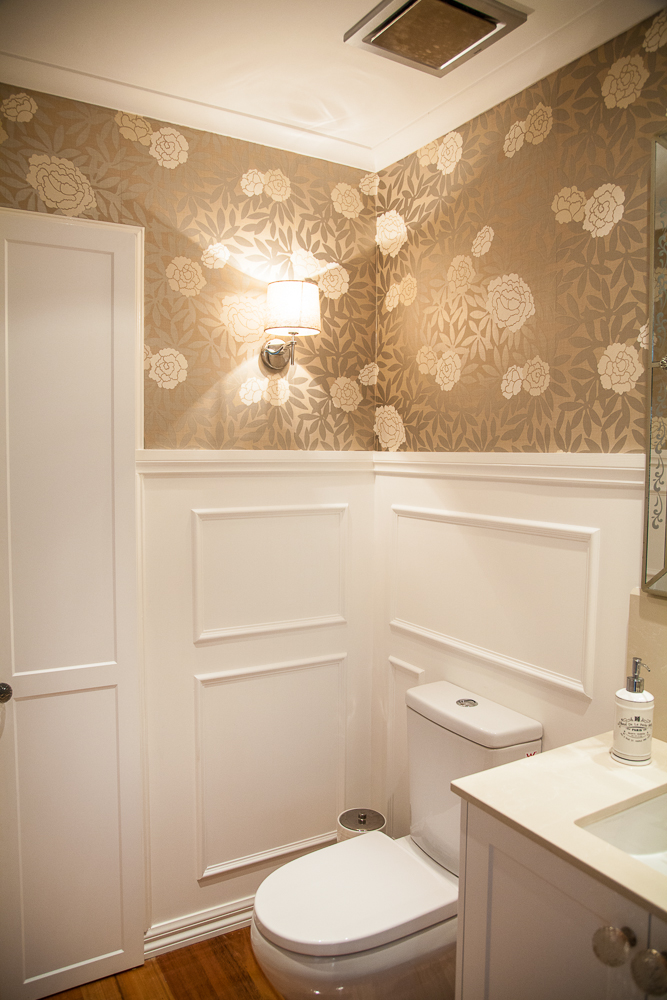 Grasscloth 
Grasscloth is a term used to describe wallpaper made from hand-woven strands of natural fibres. The fibres include hemp, jute, seagrass, arrowroot grass, bamboo and raffia. Grasscloth and wainscoting is a classic Hamptons combination.
It's a great way to add texture to a room. In this example, I chose a a light neutral colour grasscloth and paired it with blue wainscoting for this children's bedroom.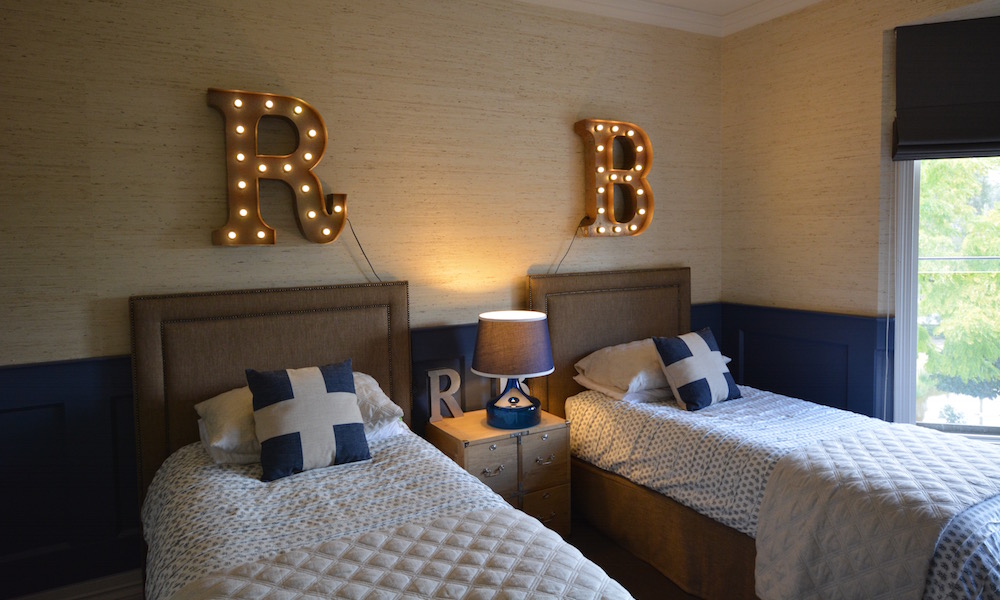 It is important to note that seams are more visible with grasscloth, so if you are after a more seamless application, you may want to choose a different wallpaper. It is also harder to install than other wallpaper, so I always recommend application by a professional.
In this other bedroom project, we decided on a beautifully textured wallpaper above the wainscoting that looks very similar to grasscloth but the seems are not as visible. It's actually a vinyl wallpaper so if it needs wiping down, it can be. I absolutely love this wallpaper and I think it is so elegant and timeless.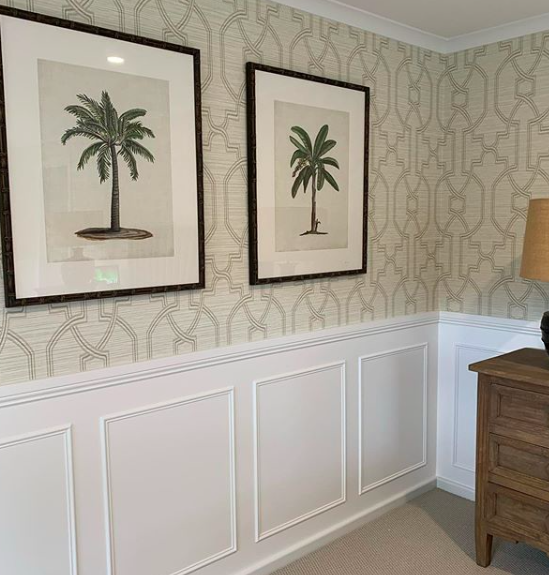 Hamptons wallpaper is a simple and effective way to elevate your home and make it stand out. If you need help choosing wallpaper, please get in touch with me.
I hope you are inspired to decorate your home with some Hamptons style wallpaper
Andrea xx
https://www.jemdeninteriors.com.au/wp-content/uploads/2020/12/Screen-Shot-2020-12-10-at-8.47.19-pm.png
699
522
Andrea Davison
https://www.jemdeninteriors.com.au/wp-content/uploads/2015/07/Screen-Shot-2019-06-19-at-9.57.15-am-300x273.png
Andrea Davison
2020-12-10 10:30:16
2021-09-01 13:11:13
Hamptons Wallpaper