I love the modern Hamptons style that has emerged from the traditional Hamptons look. The name "Hamptons" comes from the towns and villages on the eastern end of Long Island, Manhattan. Often the playground of the rich and famous, the area is known for its luxurious homes, many on the beach. Hamptons homes are noted for their white décor and relaxed but sophisticated beach style.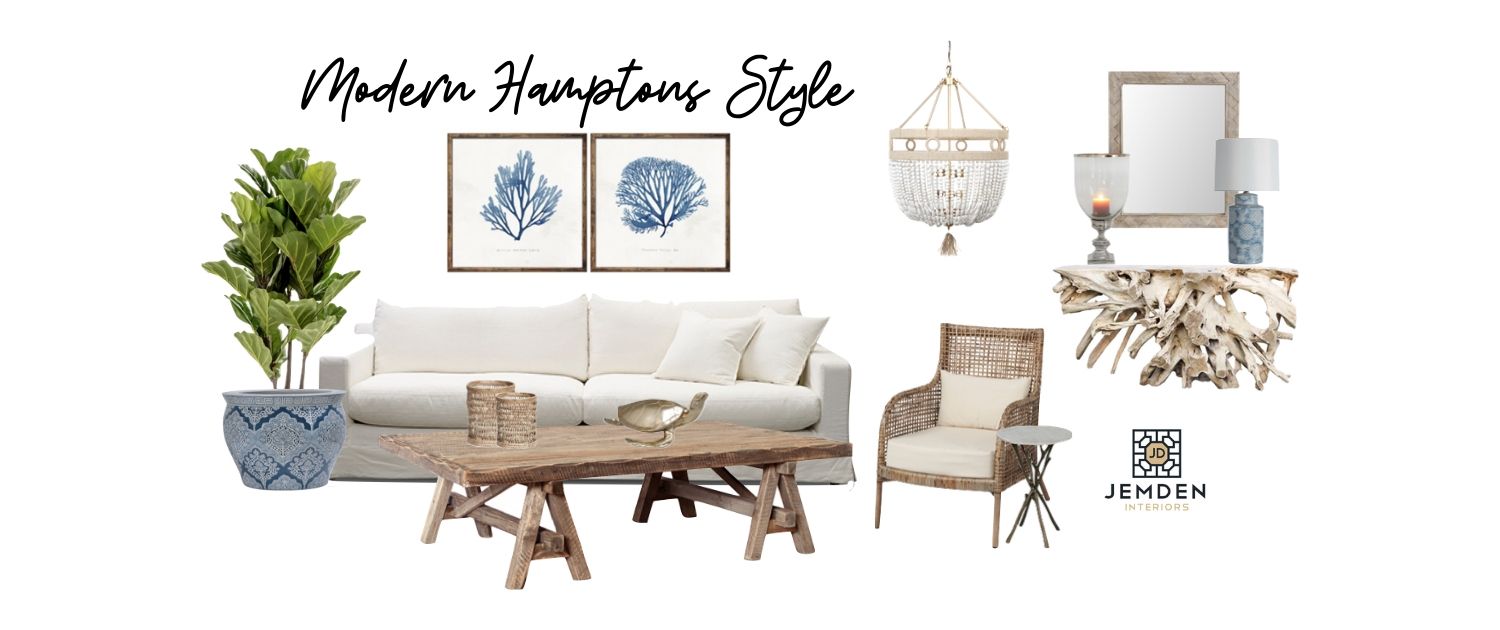 What is the modern Hamptons style?
The modern Hamptons style puts a personal twist on the traditional, often through the addition of colour and more contemporary or casual pieces of decor. It suits our modern lifestyles, particularly here in Australia. We love the elegance of the traditional Hamptons look, but also recognise that our homes need to be lived in. Our homes are an extension of who we are and the modern Hamptons style allows us to achieve that individuality.
Real life examples of the modern Hamptons style
The following are projects I've completed for clients, where I've given the traditional Hamptons look a fresh look. The homes look elegant but not old fashioned. You'll notice there's a lot more colour too.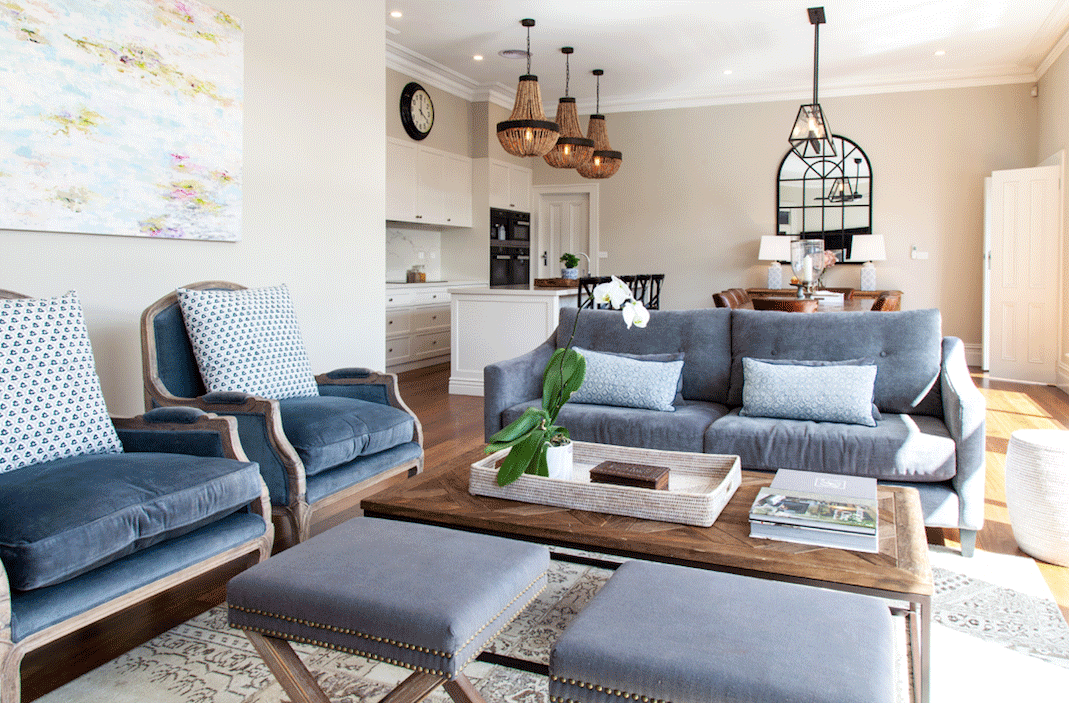 Family/Kitchen
This was a family/kitchen area in an Essendon project I worked on. As you can see, modern Hamptons is still timeless and classic but those traditional features are interwoven with more modern elements. For instance, the armchairs are quite traditional in shape, but they are paired with a more casual, modern sofa. The cushions on the armchairs also add a modern twist to the room, as does the abstract art on the wall.
The coffee table is another example of how traditional and contemporary are blended together to create a modern Hamptons style. It has a black, steel frame and is quite simple in shape and style, but the top is in traditional parquetry.
Lighting is another avenue for introducing personal style and a more relaxed feel. The timber beaded chandeliers over the island bench give it a more modern look. They also create a cosier ambience for the space.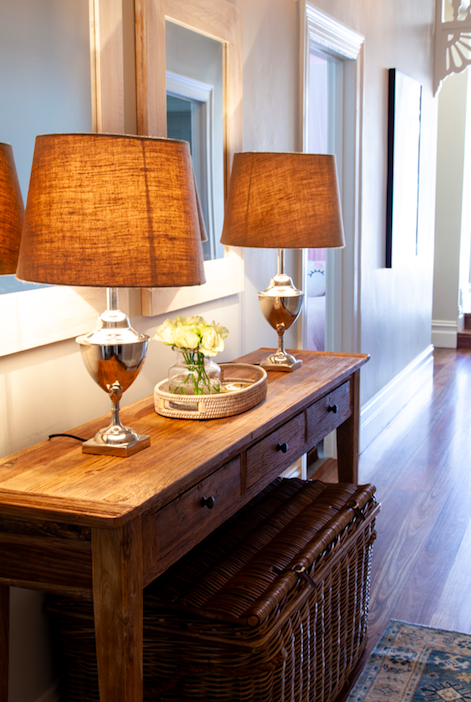 Entrance
For the Essendon project entrance I used texture, as well as a mix of modern and traditional decor to give the space character.
The lamp shades have traditional linen tops, but the bottom of the lamps, while traditional in shape, have modern, reflective bases. The pendants I chose are also modern, but work well with the decorative lace cornice. They help elevate the space and give it personality.
The console is made from rustic or recycled timber. I added more texture to that part of the entrance with the introduction of a patterned rug and a wicker basket, which the clients can also use for storage.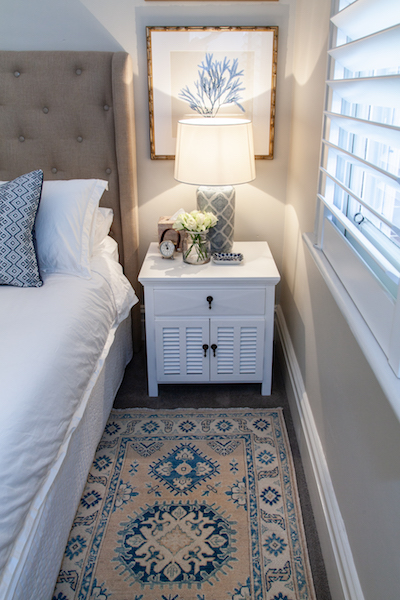 Guest Bedroom
I loved putting this guest bedroom together in a modern Hamptons style as well. While this space would have been practically all white in a traditional Hamptons home, the injection of colour adds vibrancy. Blue, white and beige work perfectly together – they are soft, complimentary colours and add interest without competing against each other. 
I also paired traditional design rugs with modern bedside tables. The diamond shapes on the throw cushions and lamp base also pick up the diamonds in the rug, ensuring everything blends well together.
I further mixed traditional and modern elements by including a natural linen bedhead, coral prints with bamboo style frames and white plantation shutters. The addition of shutters in place of drapes or other window coverings can help move a room from a traditional Hamptons to a modern Hamptons style.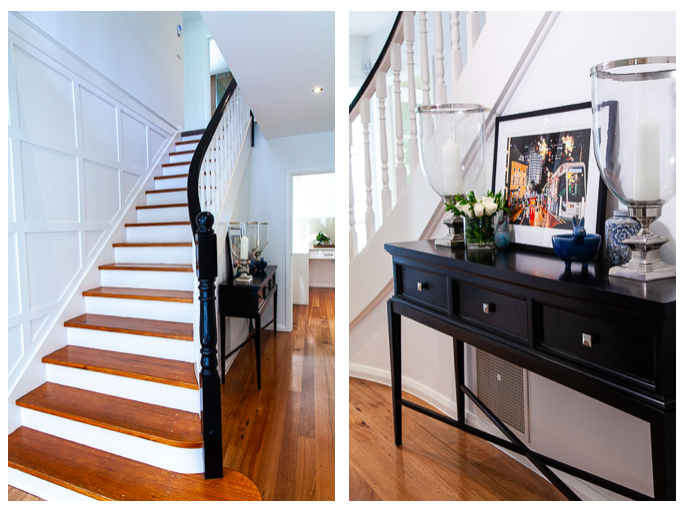 Why black works in a modern Hamptons style
Considering that white is the overwhelming colour used in traditional Hamptons styling, some might think black is too far removed, even for a modern Hamptons look. But I think it absolutely works. By providing a strong contrast to white, using the opposite in black creates a stunning effect. It's one that is elegant but also timeless.
Need help with your modern Hamptons look?
If you're thinking of decorating or redesigning your home in a Hamptons style, I'd love to help you out. Learn more about the services I offer by visiting my Services page.
What do you love about the modern Hamptons style?
I hope you are inspired.
Andrea xx
https://www.jemdeninteriors.com.au/wp-content/uploads/2015/07/Modern-Hamptons-Style.jpg
630
1500
Andrea Davison
https://www.jemdeninteriors.com.au/wp-content/uploads/2015/07/Screen-Shot-2019-06-19-at-9.57.15-am-300x273.png
Andrea Davison
2020-10-07 06:39:26
2020-10-07 06:39:26
Modern Hamptons Style