Home Decorators in Melbourne
I love to help clients decorate their homes so they are an absolute pleasure to live in. I offer a full decoration & design service in Melbourne or a more D.I.Y. approach.
At Jemden Interiors, I have loved helping many clients decorate their homes across Melbourne since 2004. I love solving my clients design problems and creating a home that is beautiful and comfortable. I really do believe that everyone deserves a home they love so I have many design packages to help from D.I.Y to full service design.
PACKAGES AVAILABLE
Room Package $1500
It is so nice to decorate a room in your home so you absolutely love it. This package will start with an initial consultation in your home and will include time for me to design the room by sourcing items, organise the delivery and style your room. You will receive a concept with all costings of furniture, art & accessories, a plan of the room and any samples available.
I need help Package $400
This package allows for me to visit your home for a consultation for up to 2 hours where I can offer suggestions & ideas. It is perfect if you want to freshen your home but don't know where to start or if you have specific questions to ask me.  A report will be emailed so you have all the information and ideas discussed for you to implement them. I can then continue to help you for an hourly fee of $150 per hour if needed.
Designer for a day $895 (6 hours)
If you have ever wanted to go shopping with a designer and ask them lots of questions and get their ideas on what to buy for your home then this is perfect for you. Generally I spend 1 hour in your home to take photos, measure any areas needed and then we go shopping where ever you like or I can suggest some great shopping places. It includes 6 hours of my time so generally from 9.30 – 4pm (half an hour for lunch not included in the 6 hours) but this can depend on your availability.
Designer time Packages
If you want some help with the design or decoration of your home then a good way to do this is to purchase one of my time packages. These are very flexible and good if you are renovating, decorating or building and want some help along the way. I can make home visits, source items, give advice on your choices and generally help to keep you on track so you will love your home. I just keep a record of the time being used so it is very flexible.
5 hours    $750
10 hours $1500
What are you waiting for? If you would like help to get a home you will love then give me a call today on 0407 07 2171 or email me. Get in touch today!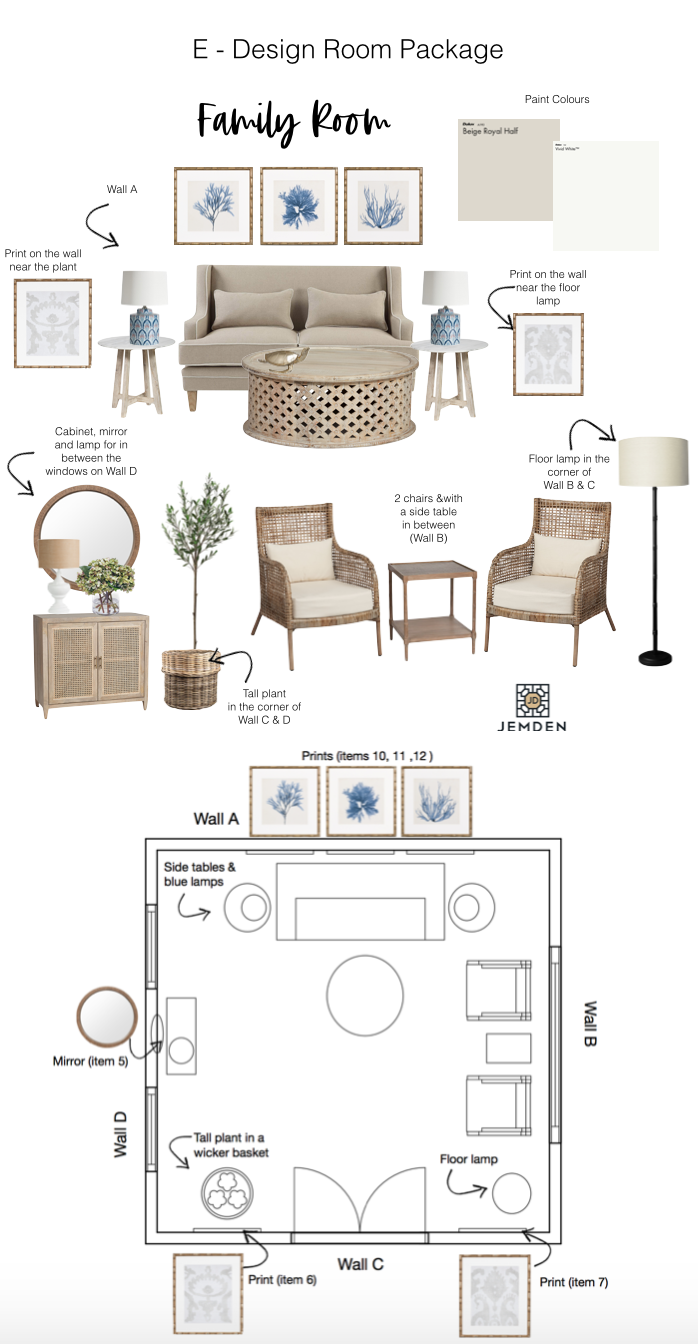 E Design – Room Package $550
This package is available to anyone because all the design is done via email and phone calls so you don't need to leave your home. I will design a room in your home and you will receive an e mood board, a floor plan, a shopping list and a full description of the design. It also includes 1 hour of my time to answer any questions that you have. You can then purchase the items from us and get it delivered or you can shop for similar items that you source yourself.
I will design a room just for you and I am available to answer your questions about the room. This is a great way to get a room you will love without leaving your home. We will correspond by email and phone calls or Facebook messenger.
E Design – Hourly Rate $150 per hour
If you have some questions to ask about your home and need some advice to create a home you will love then I offer design via phone calls, messenger and emails at an hourly rate. A lot can get done this way and it's a great way to get advice without leaving home.