Andrea's favourite things – All things natural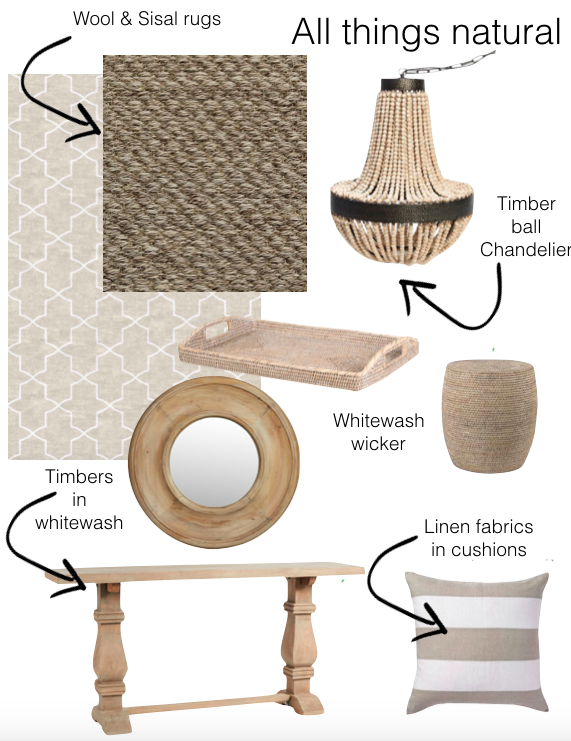 I love using natural materials in my designs because they have a timeless quality so they won't date quickly.  At the moment I have a love for timbers that have a muted tone and whitewash finish. They look great in a Hamptons or rustic style home and they help to create a very relaxed look which is very easy to live with. Rugs make such a difference to a room and I generally use wool like this beautiful geometric patterned rug or sisal. Using wicker and sisal is a great way to add texture to a room. I have had a sisal rug in our family room for many years and I still really love it and I find it really easy to live with as any spills come up quickly.  This wicker side table and tray is so handy for a family room and I absolutely love them. The side table can be in front of a sofa and it can be moved around depending on who needs it at the time because its a perfect height for putting food and drinks on. I can not rave about it enough. I Love it!!!!
Linen fabrics are always beautiful and I particularly like to use linen for cushions. This cushion is a lovely natural colour and I do love a stripe so to me its perfection. My last favourite thing is a timber ball chandelier. There are a couple of different styles to choose from but this is a favourite. (check out our website for other style) These chandeliers are great for entrances, living areas, kitchens, bedrooms and stairwells – Lol- they actually look great anywhere.
Hope you are inspired to use natural materials in your home. Andrea xx
https://www.jemdeninteriors.com.au/wp-content/uploads/2018/01/Screen-Shot-2018-01-25-at-10.39.44-am.png
741
571
Andrea Davison
https://www.jemdeninteriors.com.au/wp-content/uploads/2015/07/Screen-Shot-2019-06-19-at-9.57.15-am-300x273.png
Andrea Davison
2018-01-25 00:26:42
2018-11-05 11:00:49
Andrea's favourite things – All things natural