Decorate with flowers at home
Like everyone I love having flowers around my home so here are a few tips to get the most out of them. If you love flowers like roses then I have been impressed at how good they are from supermarkets and how cheap they are ($5 – $10 a bunch). The variety is not great though and for Peonnies which are my favourite flowers I get these at the florist. Peonnies are my treat as they are a little more expensive but I do really love them and they seem to last quite a while.
Heres how to make your flowers last longer:
 1. Cut the stems a little before putting them in water and make sure you cut off all the         leaves that would go under the water as this breeds bacteria and will make them rot.
2. Dont fill the water to the top of the vase- the water only needs to cover all the stems a     little.
3. Change the water daily and re cut the stems a little each time
4. Add 1 part Sprite (Not diet) to 3 parts water and a few drops of bleach to the water.         The Sprite will give the flowers sugar to keep them fresh and the bleach will stop  bacteria growing.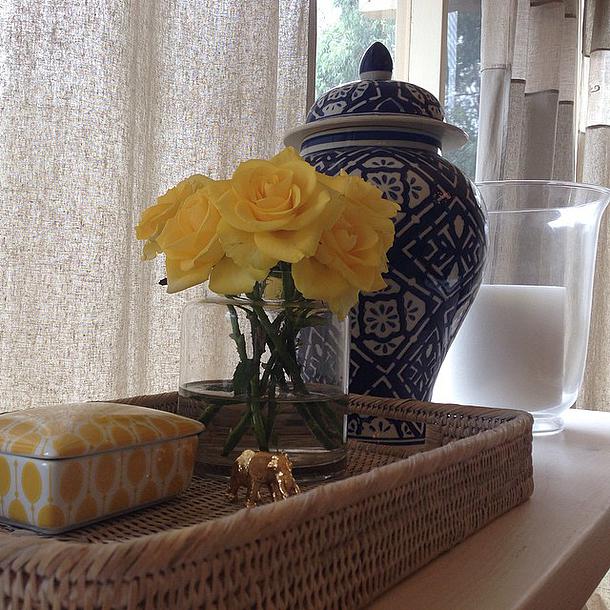 I also like classic flowers like roses which are timless and they always look great. Match the colour of the flowers to your accessories like these beautiful yellow roses that I have styled with my yellow ceramic box. Flowers are a great way to add colour to your home and you can change it every week.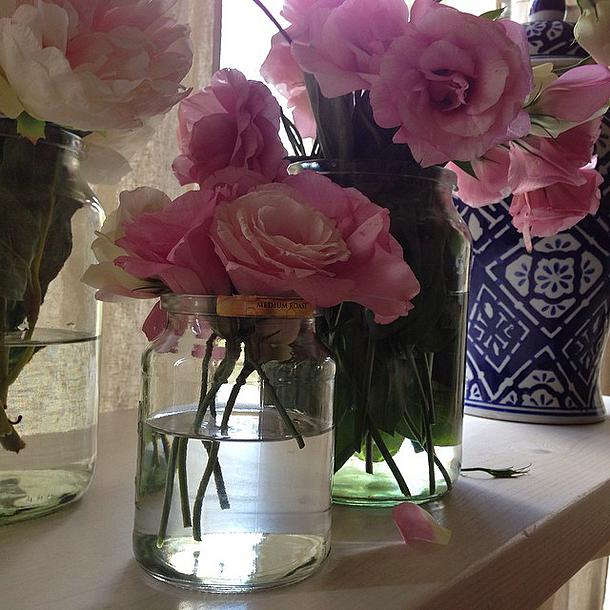 Re purpose jars like the Moccona coffee ones that make great vases in all different sizes like I have done here. I also use ginger jars and candle holders as vases. Look around your home for other things that could also be used as vases.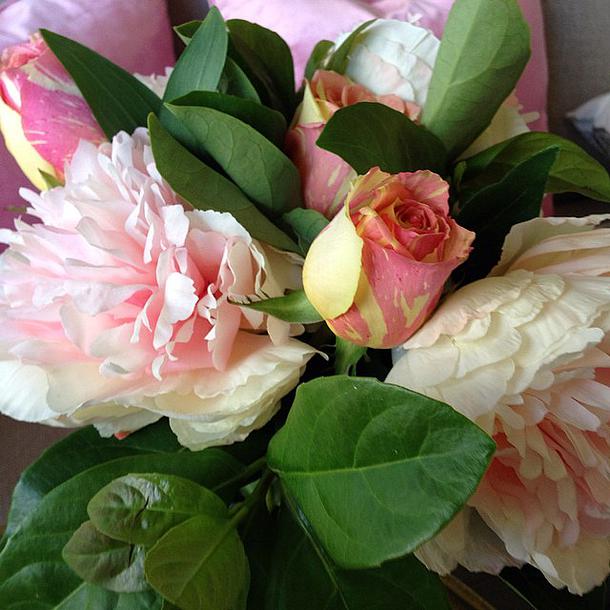 Real flowers can become expensive and some artificial flowers look so real that it's hard to tell them apart from fresh ones so here are my top tips for using artificial flowers:
1. Only choose really good quality artificial flowers
2. Use mainly artificial flowers but add a few real flowers to the mix.
3. Add real follage to artificial flowers
4. Always put water in glass vases
Andrea xx
https://www.jemdeninteriors.com.au/wp-content/uploads/2015/08/bdd1b4_df032d5c52894f839994db20c4228b97.jpg_srb_p_627_627_75_22_0.50_1.20_0.00_jpg_srb.jpg
627
627
Andrea Davison
https://www.jemdeninteriors.com.au/wp-content/uploads/2015/07/Screen-Shot-2019-06-19-at-9.57.15-am-300x273.png
Andrea Davison
2016-03-09 23:53:30
2018-11-05 11:20:36
Decorate with flowers at home