Modern Hamptons Laundry Reveal
What makes a dream laundry?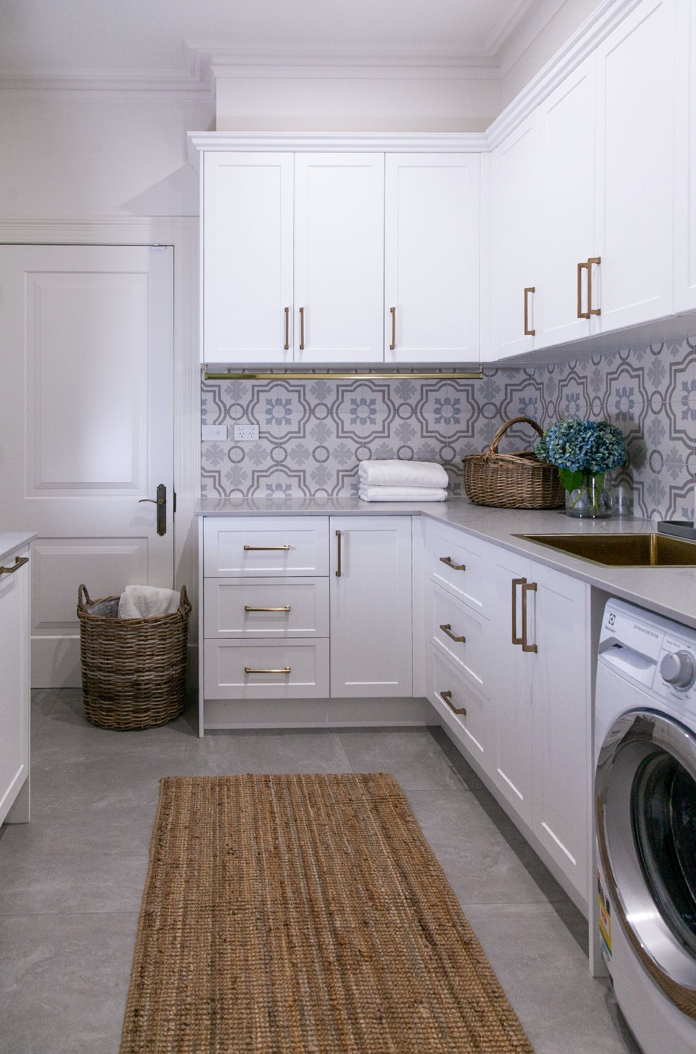 The laundry is the part of your home that no one really wants to be in because they are all about getting washing and ironing done and they also provide storage. I love designing laundries and my aim is to make them look really beautiful but also make sure they are a dream to use. I knew my client loved this one when she wanted to have a glass door from her home so everyone could see in. That was such a compliment but even though this was a beautiful laundry to look at I still thought it was best to have a solid door.
So that leads me to – What makes a dream laundry? Here I share my must haves that make it a dream laundry.
Must be beautiful
When I was designing this laundry I fell in love with the patterned tiles and I thought they would be best seen in the backsplash.   I then chose a grey tile for the floor that looks like a natural stone so it has a timeless quality. The bench top is Caesarstone and it brings all the colours together in a beautiful and practical material. Nothing says Hamptons like a shaker style door profile and a classic white gives the laundry a timeless style. The brass elements such as the sink, tap, hanging rail and handles help to add some warmth to the room and they contrast so nicely against the white shaker style cabinetry.
Plenty of Bench space & lots of Storage
It is so important to have plenty of bench space in a laundry so you can fold clothes and have somewhere to put them. This is quite a large laundry and putting the washer and dryer underneath the bench meant that there was heaps of bench space. We have plenty of storage in this laundry with a tall cupboard for the vacuum cleaner on one side and lots of overhead cupboards on the other side.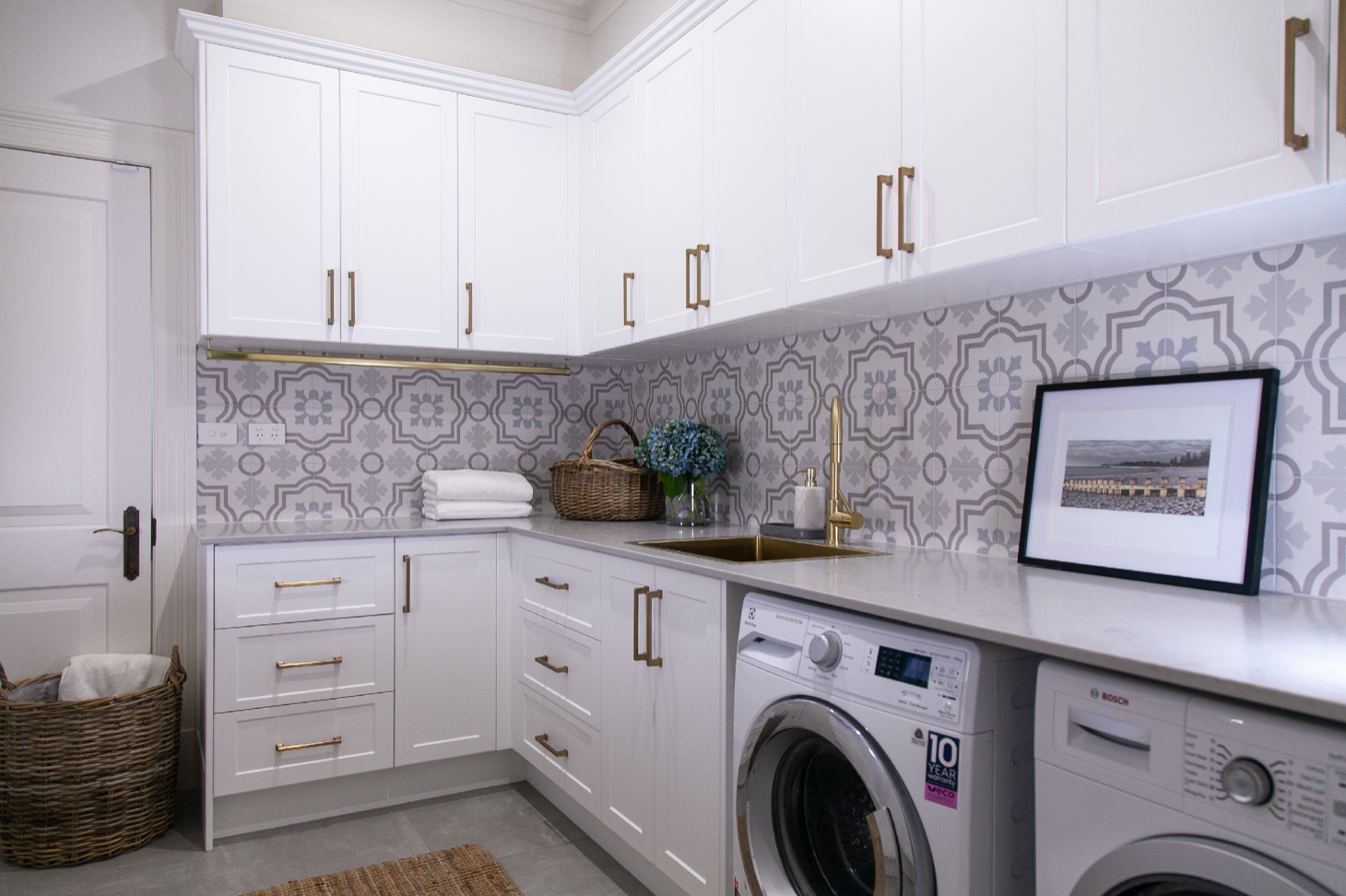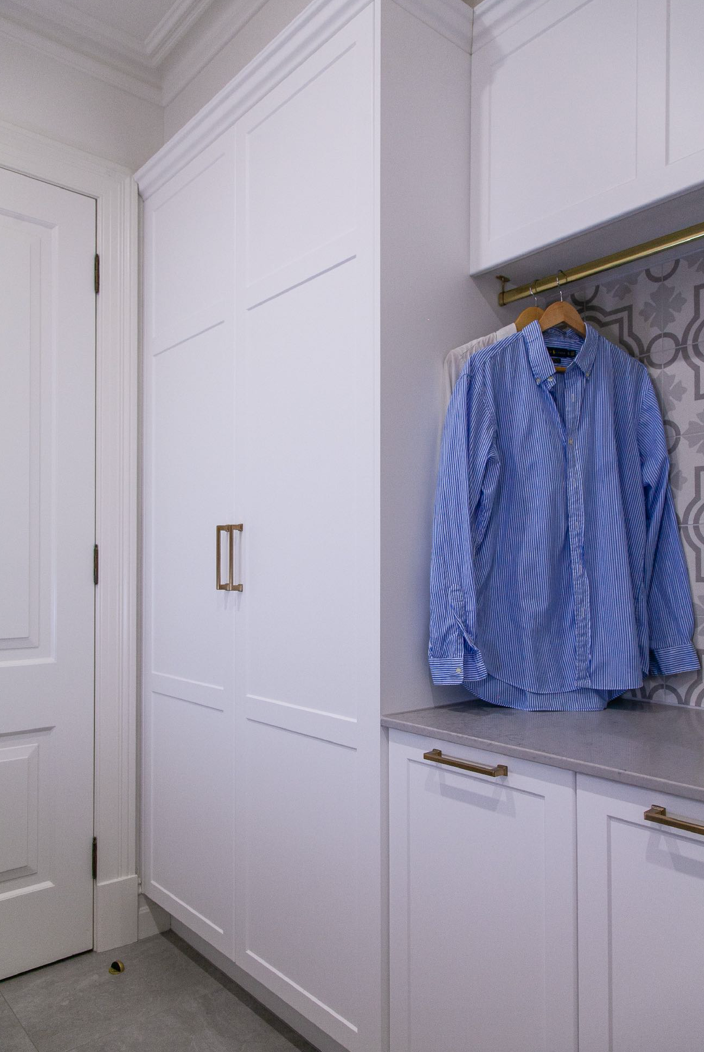 Hanging Rail
To have somewhere to hang clothes once they are ironed or dry we chose a beautiful hanging rail in a brass finish. This is where details are so important and this rail was electroplated so it would co-ordinate with the other brass details. To give enough space for a shirt to hang we allowed 1000mm above this bench top.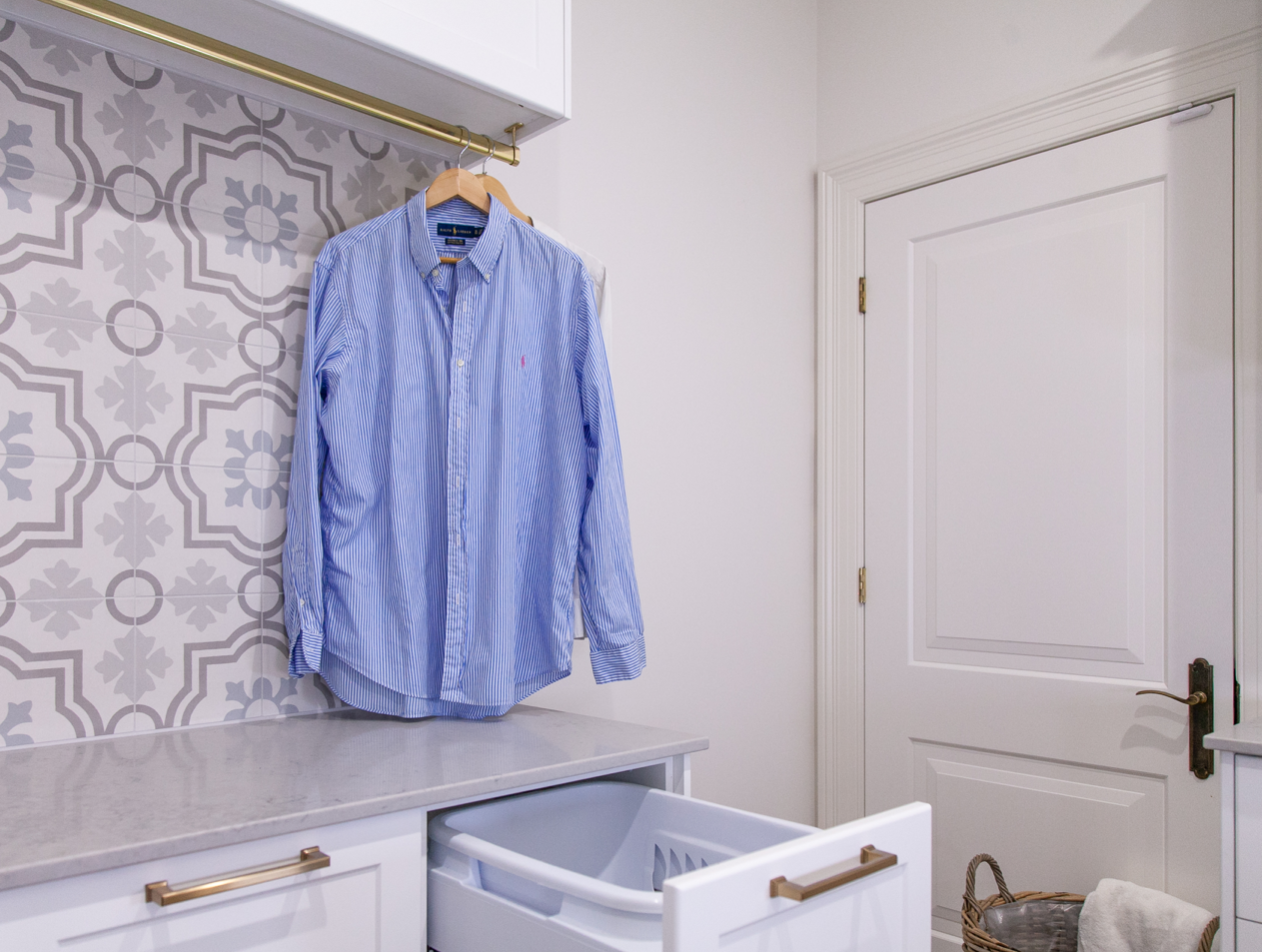 Pull Out Laundry Hampers
The clients wanted somewhere to put clothes so they could be sorted ready for washing so we have two pull out hampers under this bench that are a great size.
Fold Out Ironing Board
Ironing boards can be annoying to get in and out of a cupboard so this was a perfect solution to keep it out of the way but just fold it out for easy use. The iron is stored in a cupboard next to it and we have power points to plug the iron in.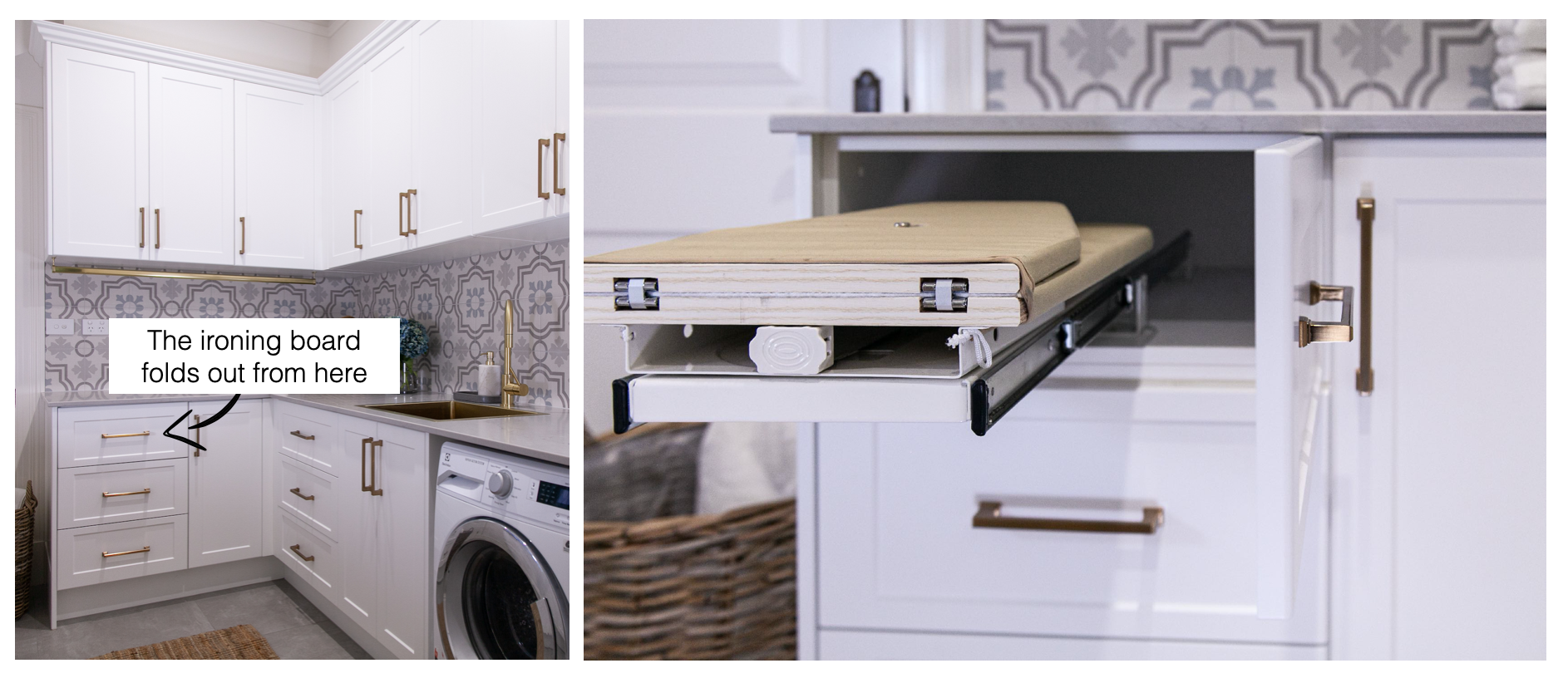 Pull out Tap
When you are filling a bucket or a vase this pull out part comes in very handy so the tap can be extended.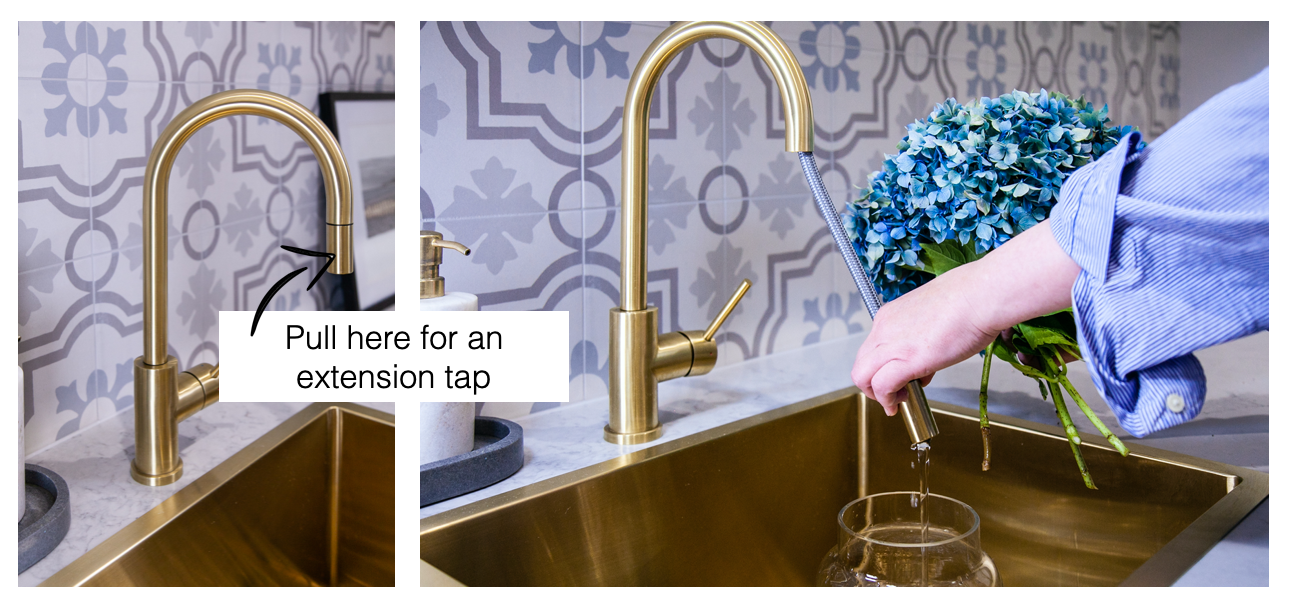 This laundry was a pleasure to design for my lovely clients and I know it will make washing clothes that little bit easier because not only does the laundry look beautiful but it has all the features for a dream laundry.I hope this helps to inspire you to create a laundry you will love, Andrea xx
"Andrea, You have designed the most beautiful space. It's better than anything I imagined!! Thank you so much!!"
Builder: https://www.edwardsrenovations.com.au
Tiles, Tap & Sink Supplied by: https://yeomansbc.com.au
Sink & Tap Brand: https://www.abiinteriors.com.au
Pull Out Ironing Board: https://www.wilbrad.com.au/shop/productdetails?pid=4733&name=Kia-Ora-Pull-Out-Ironing-Board
Pull out hampers: https://www.hafele.com.au
Handles: https://handlehouse.com.au/product/c156-bondi-cabinet-handles/
Cabinetry Supplier: https://www.janper.com.au
Bench top: https://www.caesarstone.com.au
https://www.jemdeninteriors.com.au/wp-content/uploads/2022/02/Screen-Shot-2022-02-20-at-11.13.27-am.png
1054
696
Andrea Davison
https://www.jemdeninteriors.com.au/wp-content/uploads/2015/07/Screen-Shot-2019-06-19-at-9.57.15-am-300x273.png
Andrea Davison
2022-02-20 01:08:23
2022-02-20 06:17:40
Modern Hamptons Laundry Reveal