Interior Designers latest Heidelberg Renovation Project
This project in Heidelberg was an older home and my clients, a busy family with teenage children wanted me to help create their 'Forever home'.  They wanted more space as the demands on the family had changed as their kids were now teenagers who wanted their own living area.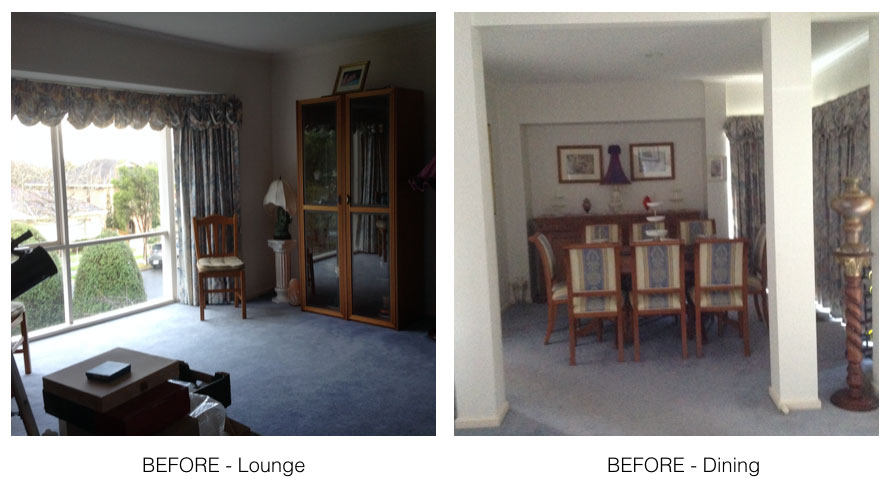 After a lot of consultation with the family it seemed obvious to me that the formal lounge room and dining room at the front of the home were not being used. We decided to change the dining area into a home study which could be closed in with doors and the lounge room would be more inviting to use if it had a full decoration update. Initially the clients were looking at a large extension under the home which was very costly so this was a more cost effective alternative.
This meant a full gut renovation and a small add on to the kitchen/ meals area which made an enormous difference to the use of the space.  A fantastic alfresco area was also included with a built in B.B.Q and outdoor kitchen. This enabled the kitchen area to flow into the outdoor area and therefore be a lot more useable. I helped my clients choose all the materials and finishes for the renovation part and I liaised with their builder when required.  It was great to also finish this home by working with the clients on the decoration as well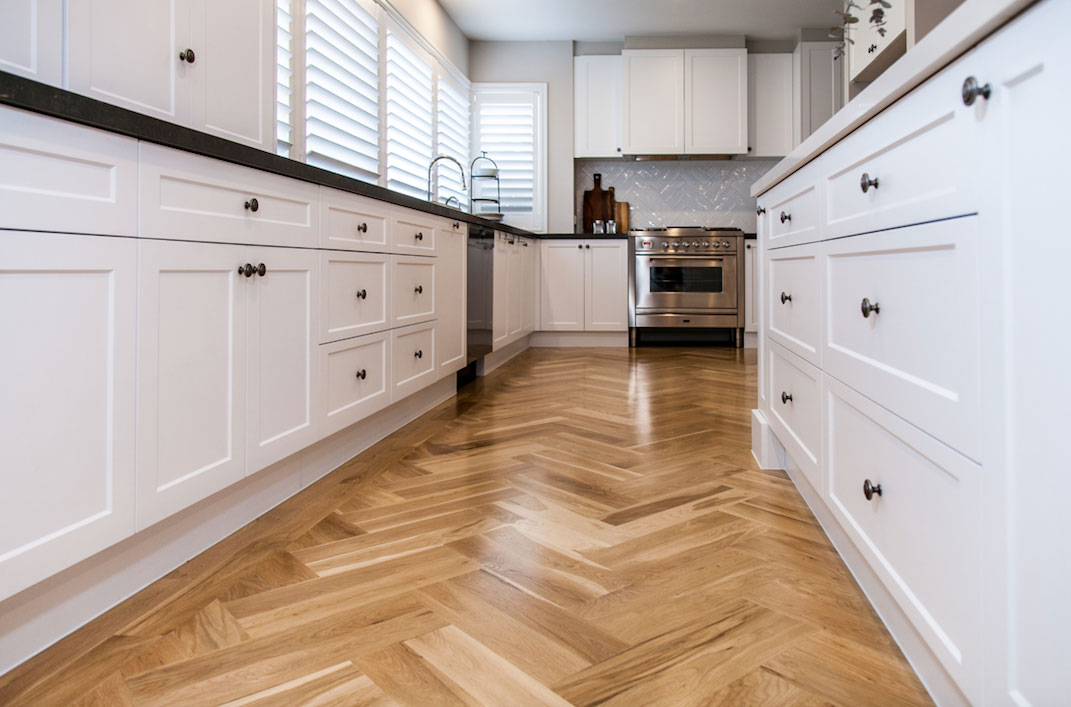 My brief was for the Heidelberg home to be timeless and elegant but also practical for a family. The design process starting by visiting flooring showrooms so we could choose the perfect flooring throughout the home. A Natural oak flooring was chosen and this was installed in a herringbone pattern to give it a more formal and elegant look. I love choosing timber floors because being a natural material it has a timeless quality that will stand the test of time so it can be enjoyed for many years.
We then visited the Caesarstone showroom and the clients were immediately in love with a particular bench top they wanted for the island bench in the kitchen. I always recommend visit the showroom when choosing a bench top, especially when it is a stone look as the vein can look quite different in a big slab compared to a small sample. We then thought it would be more interested to have a darker bench top for contrast on the outer cabinetry so this was also chosen. Just in case we made some other bench top choices to have other preferences and after receiving our samples we visited the tile shop.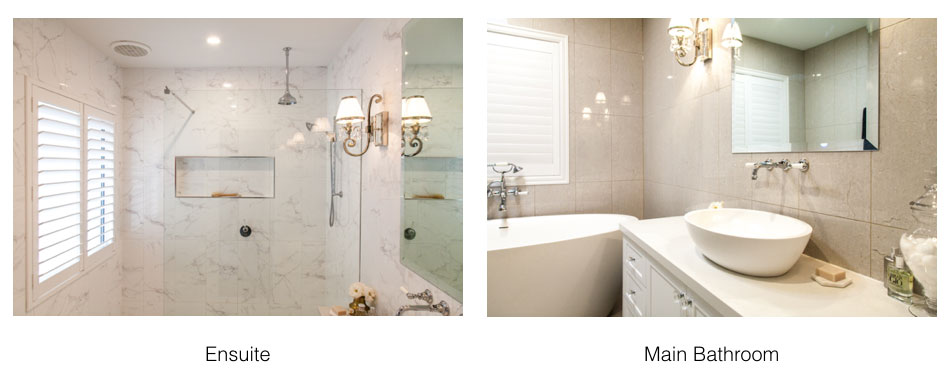 In order for the home to flow we chose porcelain tiles that have a natural stone look for the ensuite and main bathroom but in slightly different colours. It was decided that both bathrooms would be tiled to the ceiling to give a luxury hotel look and this is also very practical for keeping the area water proof.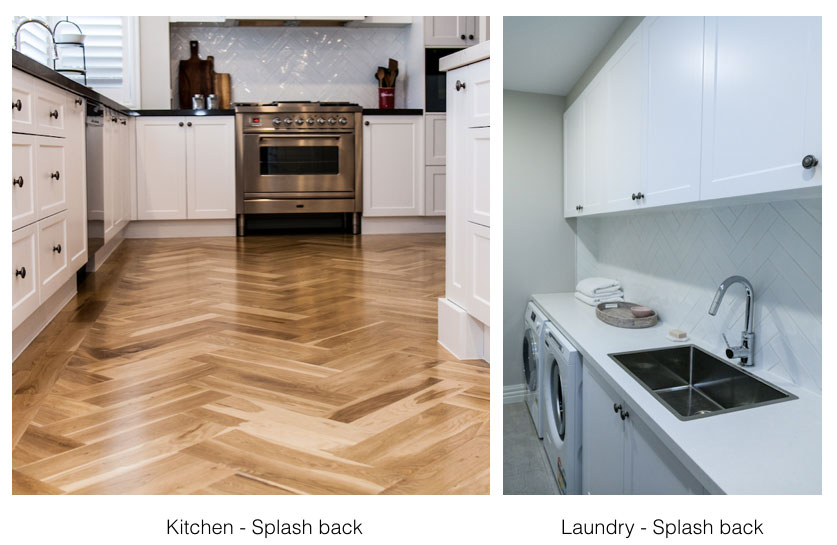 In the laundry and kitchen a subway tile in white was chosen that has a hand made quality because the edges are not perfect which I love. We had these splash back tiles installed in a herringbone pattern to create repetition with the oak flooring pattern. Throughout the kitchen, bathrooms and laundry all the cabinetry was the same shaker style and colour to keep it harmonious.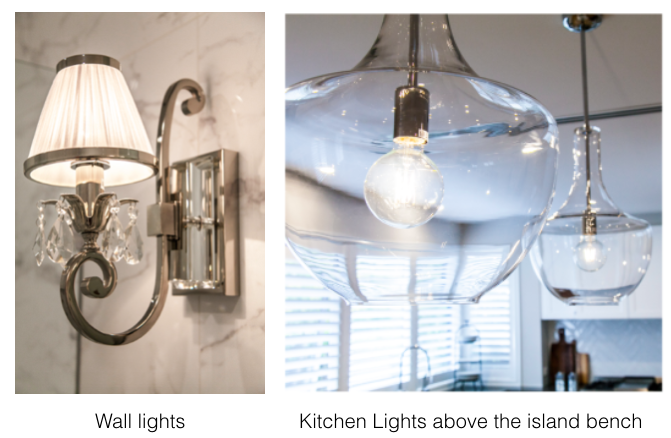 Recessed lights were installed in the main areas of the home because this is a very practical lighting solution. To add some elegance lights with crystal droplets were also installed in key areas like the entrance, lounge room and bathrooms for an added feature. Above the island bench in the kitchen these gorgeous large glass pendant lights were chosen and all I can say is WOW. We all loved them. Lighting is so important and my tip for choosing feature lighting would be to keep the style consistent throughout your home.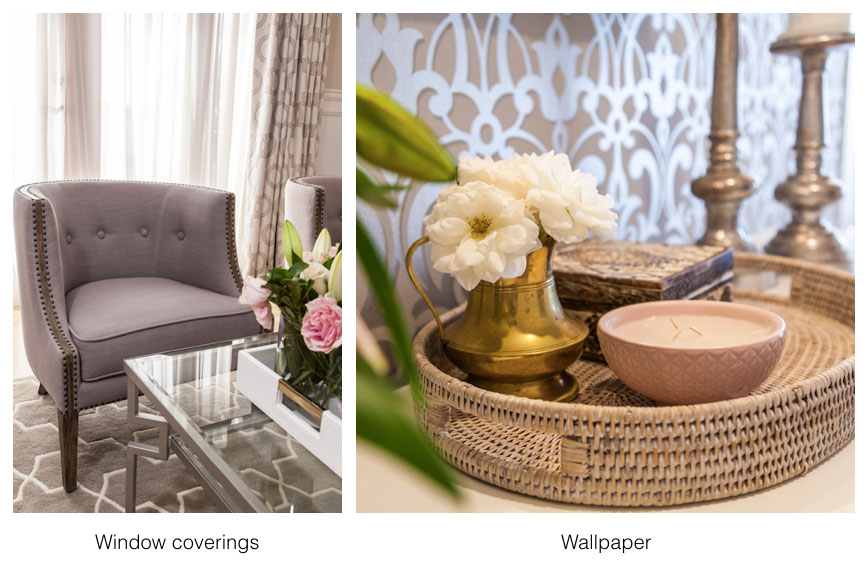 After the material and finishes were all chosen for the renovation part of the design it was time to choose the decorations like window coverings and wallpaper. It is always a great pleasure to design a home from start to finish and this was no exception as it was a joy to work with these lovely clients. This beautiful wallpaper was installed to the entrance, powder room and family room and it helped to continue the elegant look from one room to another. It was very rewarding to see the beautiful window coverings installed as they helped bring the entire home together as an elegant family home.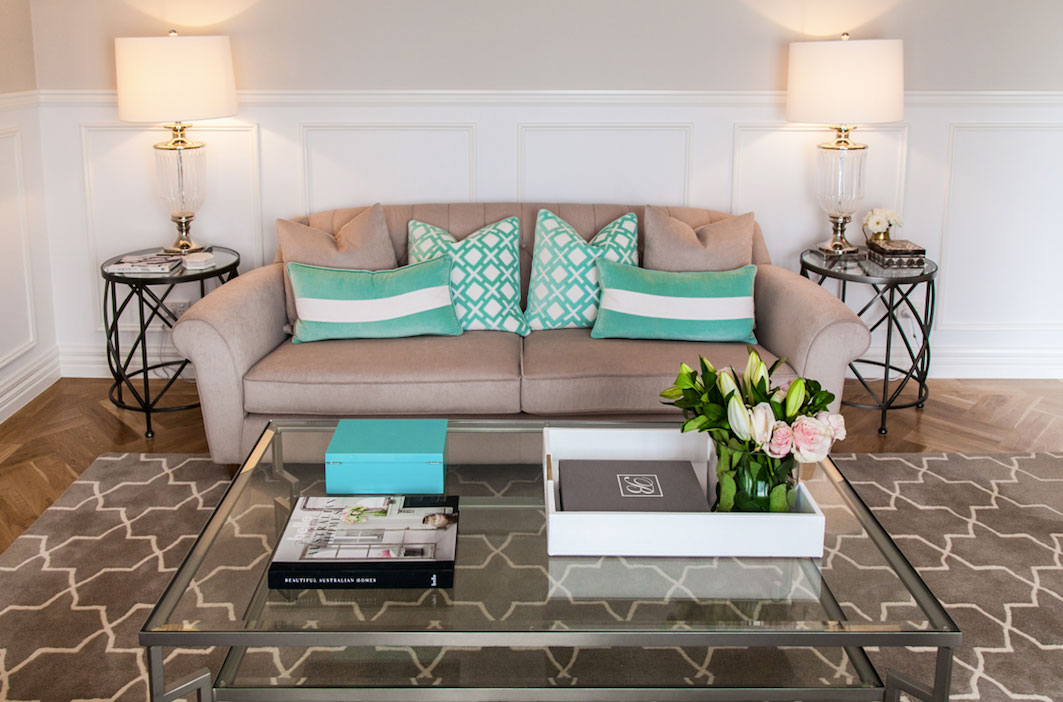 It gave me great pleasure to have our final furniture and finishing touches installation. This is always my favourite part because this is where all the items are delivered and I get to style them in the home.  The client then came home to see their beautiful home finished and the end result was a happy family who get to enjoy their home for a long time.
https://www.jemdeninteriors.com.au/wp-content/uploads/2015/07/banner4.jpg
602
1400
Andrea Davison
https://www.jemdeninteriors.com.au/wp-content/uploads/2015/07/Screen-Shot-2019-06-19-at-9.57.15-am-300x273.png
Andrea Davison
2019-07-02 03:51:13
2019-07-03 03:46:04
Interior Designers latest Heidelberg Renovation Project