Creative ways to display photos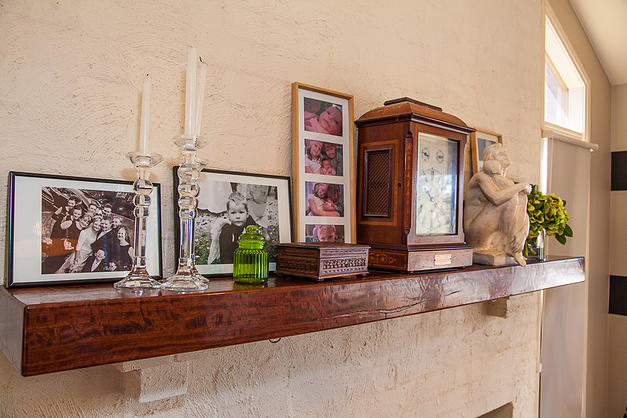 I love having photos around my home and I think there are a few tricks to make them look good so here are a few pics from around my home and I hope you are inspired to create your own photo displays.  A mantel is a great place to have family photos and I like to lean photos against the wall to give it a more casual look. When displaying photos like this the frames should be different sizes to create angles. I love black frames because they are timeless but you can also incoporate a timber frame like I have here.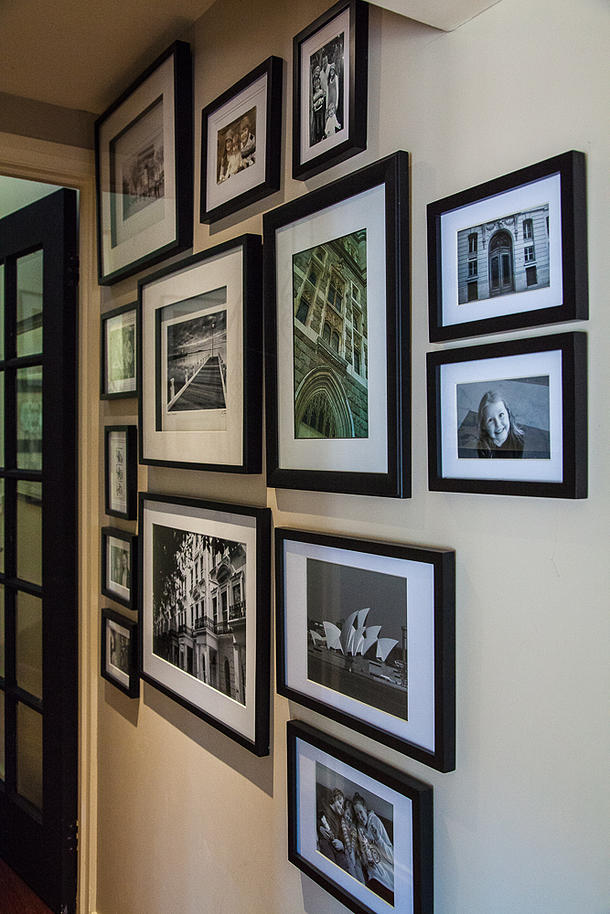 If you want a family photo wall it is best to choose a wall that is not too big. This one is perfect as its a small area near our stairs. I love that everytime I pass it I see beautiful photos of my family and the great places we have visited. I love to mix photos of architecture and also photos of the family in the same display. For these photos I chose all black frames in various sizes and I have hung them all the way to the top. I always choose frames with a matt board because they look so much nicer. Black and white photos are timeless and I will add more photos to this wall as we create new memories along the way.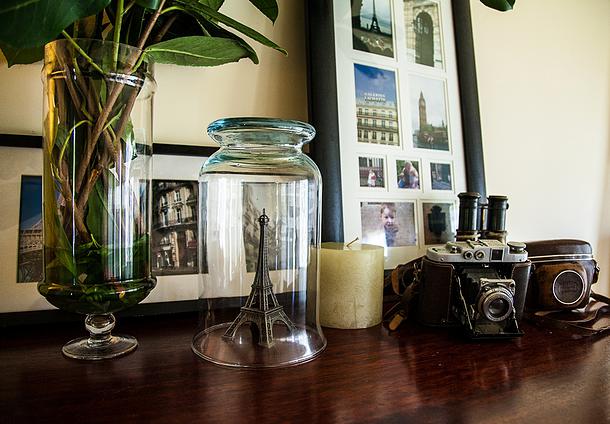 I have leaned the photo frames against the wall on top of the tv cabinet in my lounge room. These photos are all from our trip to Paris and London and I have mixed photos of architecture with photos of the family. Surround yourself with things you love that remind you of your special memories like I have done here. I love the Eiffel Tower so I have added this to the display and also some old cameras from my husbands dad as they are special to our family.
My top 5 tips on photo displays
1. Always choose frames with a matt board
2. Black & white photos are timeless
3. Buy frames that are the same finish but all different sizes to create a family photo wall
4. Lean photos against the wall on mantel's, consoles etc for a relaxed look
5. Make sure the wall is not too big for a family photo wall
Keep adding to your photos and have fun with it.
Andrea xx
https://www.jemdeninteriors.com.au/wp-content/uploads/2015/08/bdd1b4_92527857858e42f78b15c06ee900d737.jpg_srb_p_610_425_75_22_0.50_1.20_0.jpg
424
610
Andrea Davison
https://www.jemdeninteriors.com.au/wp-content/uploads/2015/07/Screen-Shot-2019-06-19-at-9.57.15-am-300x273.png
Andrea Davison
2016-03-17 23:46:19
2019-06-23 02:21:50
Creative ways to display photos