Its nice to entertain in summer so I thought I would share my tips on Summer Entertaining to inspire you to have friends and family over for an occasion or just because its fabulous weather.  I like to create a relaxed feeling so guests feel welcome and comfortable. One way to do that is to create a drinks area for your guests.
Create a drinks area in your home so its in a convenient place to greet guests as they come in and make them a drink. It's also great to set up the area so guests can help themselves throughout the day and night.  I have used a console table for my drinks area and I've started by adding a wicker tray with glasses and drinks.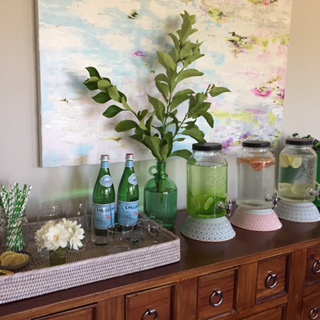 I always love to add fresh flowers and greenery for decoration and these white roses and branches are from my garden.
These jugs are perfect as they look great but they are also very practical too. I have cordial in 2 jugs and then a jug full of water. Always add ice to keep the jugs cold and I also like to add some sliced lemon or lime for decoration and also taste.
I put upside down bowls on the bottom of the jugs to give them a bit of height and to also add pattern and colour.
Here I have been inspired by the colour of the S.Pellegrino bottle and added green straws to the tray which kids love for their drinks.  I've also sliced some lemon for garnishing drinks.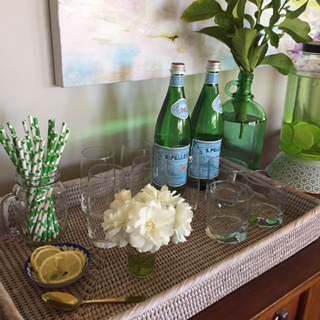 Find a bucket or a pot that you can use to put the drinks and some ice to keep them cold. Here I found an old metal bucket in our garage and I spray painted it green and I love how it looks. I got the jars from a local discount store and they were in expensive so it doesn't have to cost a lot to make it look beautiful.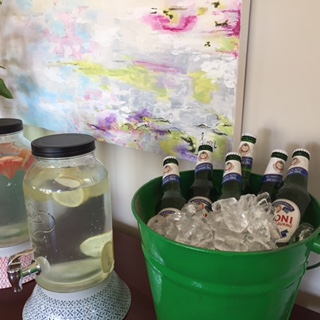 Create an outside are that is cosy and comfortable for people to chat and relax. I have added some cushions to our outdoor seating and a side table which I got from inside but I'm happy for them to be outside for the day. Add a tray with some cold water and glasses and this can be topped up throughout the day. Add buckets with drinks around the space and make it easy to help yourself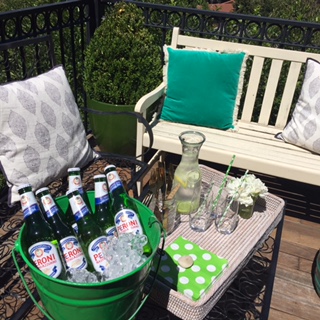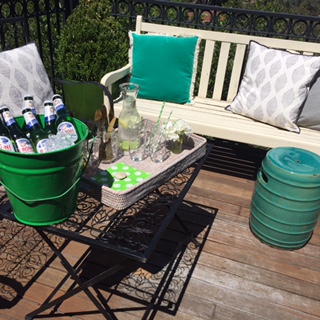 I hope you are inspired to entertain your family and friends this summer.
Andrea xxxx