APARTMENT LIVING: How to make the most of your space
Apartment living is becoming more and more popular in the suburbs of Melbourne and I see more apartments being built in areas close to me like Eltham and Doncaster. A lot of my clients who are moving into apartments are downsizing because their children have left home and the low maintenance of an apartment and the closeness to the main shops is beneficial to them. These clients usually want to start fresh with mostly all new furniture. This makes sense considering they have usually had their furniture for quite a long time and because an apartment is usually smaller than their previous home they don't need a lot of things to fill it up. I thought it would be a good idea for me to share my tips for decorating an apartment and getting the most out of your space.
Storage
Storage is really important when your space is limited so when you are choosing furniture make sure it has storage so you can use every space possible in your apartment. Beds can have drawers underneath for extra storage space in your bedroom and coffee tables with drawers and shelves are great for family rooms. Ottomans that open up are also great for extra storage and they can also be used for extra seating when you entertain.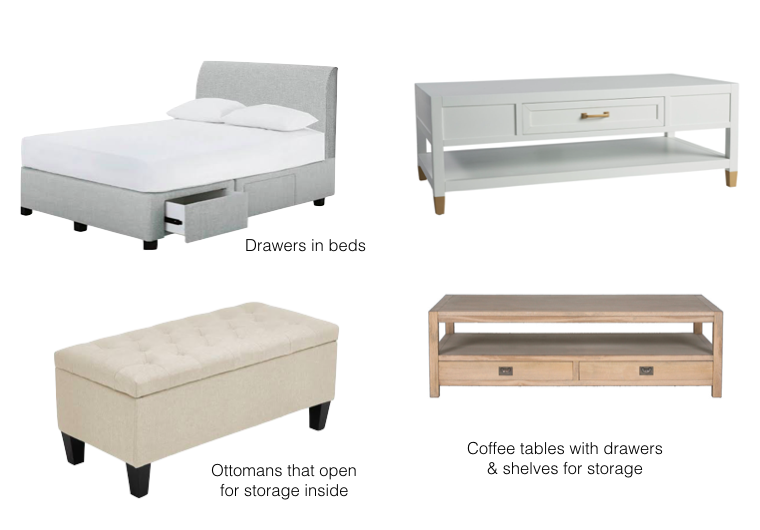 Use a buffet for under a television 
I don't like the look of tv units that are really low because I think they look out of proportion so I usually choose a nice buffet instead for a piece of furniture under the tv. This also gives you more storage and I think the tv is better to watch at this level. If you require a Foxtel box etc this can be stored in the buffet and a hole can be drilled in the back of the cupboard for the wires to reach the power. (Buffets are usually 80-90cm high)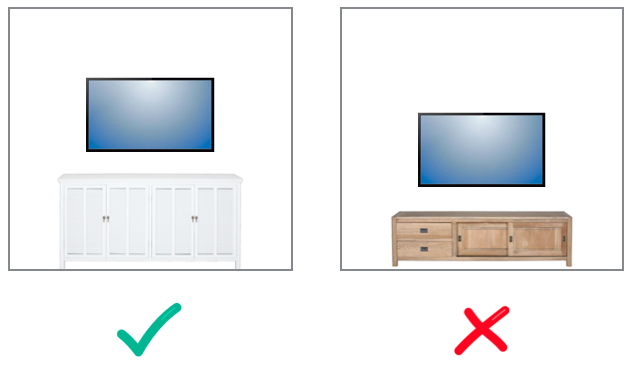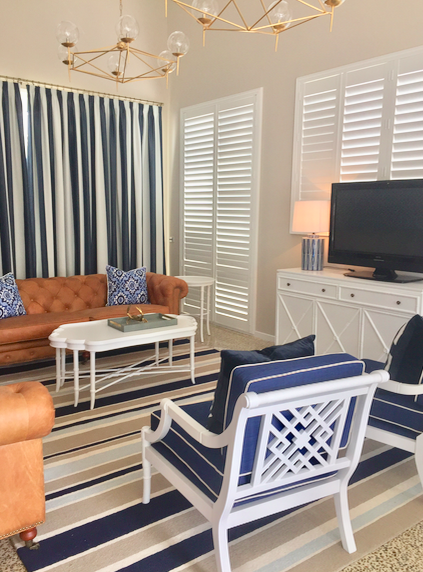 Tip: Extension Tables
Extension tables are perfect for apartments because on a daily basis they can be kept small and made larger when you want to entertain.
Choose furniture that can be converted into something else:
Furniture that can be changed so that it has a different function is ideal for apartments.  Sofa beds are a great idea so you have the flexibility for guests to stay over with out a spare room.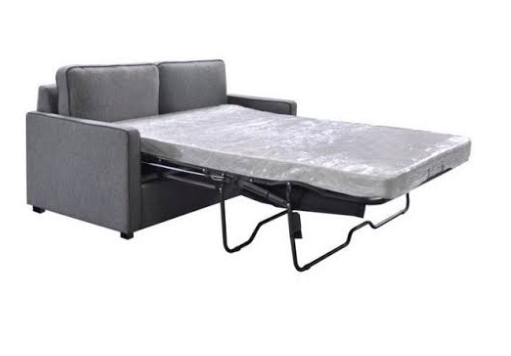 Built in storage:
Creating built in storage in your home that is specifically made for you and how you live is the ultimate in a small apartment because you can take advantage of every bit of space. In this home office we designed the cabinetry to have lots of drawers and shelves.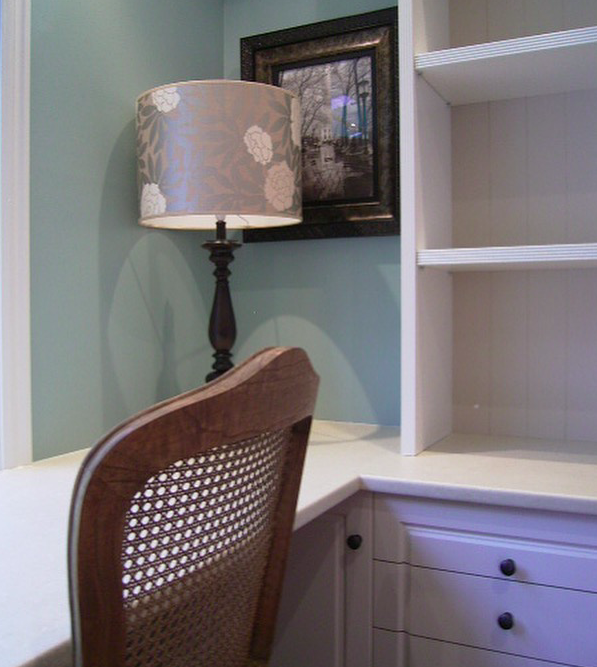 Art: Use your vertical space to hang art that you love.
In a smaller space you don't have many walls to hang art so don't be afraid to hang art that takes up the whole wall because this gives it more impact in your room. See examples below
Mirrors: Use mirrors to make the space appear bigger
I like to use really large mirrors in rooms that are small because they help reflect the room and make it look larger. In this lounge room below I chose this very large mirror above the couch and it's perfect to reflect the outside view and make the room look larger.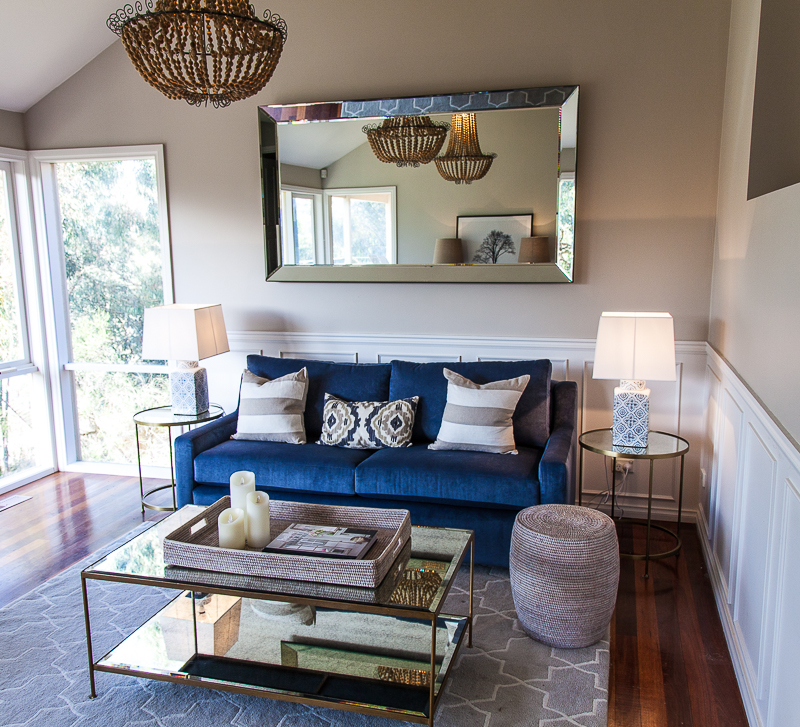 The photo below shows an arched mirror that I used in an open plan kitchen – dining – family room in my Essendon project. I love using these mirrors because they look like another window and they definitely open up the space and make it feel bigger.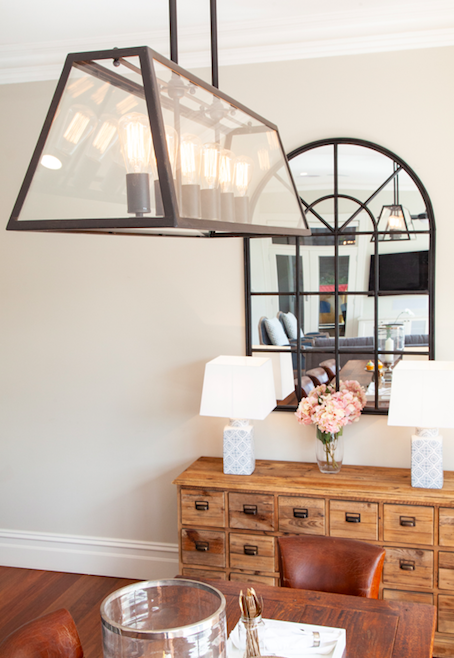 Rugs – Use rugs to define each space
Many apartments have open plan living like this kitchen – dining – family room below: Adding a rug to the living area is a great way to define the space into sections.


I hope you are inspired to create a beautiful home you will love. Andrea xxx
.
https://www.jemdeninteriors.com.au/wp-content/uploads/2015/07/IMG_4146.jpg
430
1000
Andrea Davison
https://www.jemdeninteriors.com.au/wp-content/uploads/2015/07/Screen-Shot-2019-06-19-at-9.57.15-am-300x273.png
Andrea Davison
2020-02-03 00:34:36
2020-02-03 00:34:49
APARTMENT LIVING: How to make the most of your space